Painting a Greener Future – Greenleaf Featured in State's "Green" Registry
"Sustainable" is the new buzzword for eco-friendly or "green." Why is being sustainable good for business? Read this interview with the New Jersey Sustainable Business Registry. Greenleaf is a founding member of this state-wide registry for businesses committed to green practices.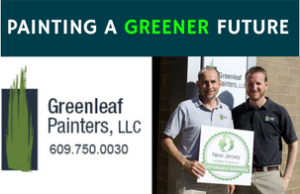 Jonathan Shenk founded Greenleaf Painters, an eco-friendly painting company, over 10 years ago.  Since launching the company, Jonathan has consistently proven that small businesses can benefit from sustainable practices.  Sustainability is widely integrated into the daily business practices of Greenleaf Painters and is embedded in its company culture.  Greenleaf's commitment to sustainability has helped it to capitalized on the growing consumer demand for environmental paint choices and distinguishes it as a model for other small businesses across the state about how to successfully embrace sustainability.
Paints, paint thinners and other paint solvents can be a major source of indoor air pollution, and improper disposal of unused paint can lead to contamination of groundwater, and local waterways.  Greenleaf Painters has taken these environmental risks and turned them into opportunities to differentiate itself from competitors. This is illustrated through Greenleaf's commitment to advocating for environmentally friendly paint products and waste reduction techniques.
Read the entire article by clicking here.
***********
Owner Jonathan Shenk Featured in Town Topics
Greenleaf Painters Owner "Keeps the Faith" in Painting Sacred Spaces
Jonathan Shenk doesn't limit his client base to houses of worship. But churches, synagogues, and Quaker meetinghouses figure highly in the work done by Greenleaf Painters, the company he founded a decade ago. Since Mr. Shenk is a former pastor and a self-described "missionary kid" whose parents were Mennonite missionaries, it makes sense.
Read the full article on Town Topics online
***********
Greenleaf Painters Featured on NJBIZ
Greenleaf Painters finds price is now right for its product
Between giving examples of his sustainable practices, Jonathan Shenk, owner of Greenleaf Painters, was fending off calls about the extra painters he's looking to hire.
Certainly, he's doing something right.
The small Lawrenceville shop has just 15 employees at the moment, but it started with even fewer – just one, in fact.
Read the full article on njbiz.com
 ***********
Greenleaf Painters Featured on NJ.com
Toxin-free paints paying off for Greenleaf Painters in Lawrence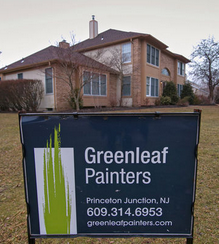 Jonathan Shenk had a hunch nearly a decade ago that "green" toxin-free paints were going to explode in popularity, so he made a move. He founded his own company, Greenleaf Painters, which would specialize in green paints.
Today, Shenk's intuition has paid off. His Lawrence-based company has 10 full-time painters and several managers, and business is good.
Read the full article on NJ.com.
  ***********
Champion For Business: Jonathan Shenk
Championing for others, whether it is through mentoring, ministry, giving back to the less fortunate, or providing a job, Princeton Junction resident Jonathan Shenk was named a Champion for Business by the Princeton Regional Chamber of Commerce this month.
Receiving the recognition "was a special honor" for Shenk, who is an active member in the Chamber and mentors new members. "It's a great program the Chamber has to highlight a different person each month."
The award recognizes an outstanding business leader in the Princeton Region for their contribution to the Chamber while growing their business and demonstrating the values of being a good corporate citizen. Basic criteria for awardees are involvement with the Chamber, contributions to the business community, and participation in Chamber activities.
"Jonathan is always thinking of someone else. Who can he refer business to? Who can he connect that doesn't already know each other? How can he help out a new Member?" said Hillary Spivak of Princetonian Graphics and a member of the Champion for Business selection committee. "Jonathan always puts another Member first, which makes his successful commercial and residential painting contracting business even more admirable."
Shenk began his Princeton Junction-based business, Greenleaf Painters, in 2006 after serving as a minister at the Dutch Neck Presbyterian Church for six years. "I had been looking for another opportunity outside the parish ministry," he said. "I was looking for a year or more and I wasn't able to find anything else. I was feeling restless."
Mr. Shenk gave three months' notice to his congregation and continued his search. "When my three months were up, nothing had panned out and I needed to provide for my family," he said. Having done some painting during college, he decided to look for work with local painters. When that didn't work out, his wife suggested that "if no one is hiring, why don't you start your own painting company?"
"Before I knew it, it was no longer a transitional job, but a successful business," he said. Greenleaf Painters now has more than 12 painters during the busy season. His company uses environmentally friendly paints and materials as much as possible. Employees are not allowed to smoke at job sites, which is one thing that makes his company unique.
Greenleaf Painters also gives back to the community. Back when he was looking for the next thing to do after pastoring he met with a social justice advocate about getting involved in some outreach programs in Trenton. The person bluntly told him that poor people in Trenton didn't want or need his help. He said what they needed was someone who could provide jobs. "In a way, I'm being a part of that by starting a company," says Shenk. "I'm providing jobs."
The company now donates a portion of its proceeds to the Trenton chapter of Habitat for Humanity. Said Shenk: "There is an outreach part of our company. We are painting for people who have a home and this is a way we can help out those who don't have a home."
An ordained Presbyterian minister, Shenk says his interest in divinity came from his parents, who were ministers. Shenk was born in Somalia and at age six his parents moved to Kenya to continue their mission. "I had a great childhood," said Shenk. He came to the United States in 1979 and entered junior high school in Lancaster, Pennsylvania.
His previous work experience includes working as a journalist at the Center City Star newspaper in Philadelphia, and teaching grammar and English literature to high schoolers in the Bronx. His education includes a Bachelors degree in journalism and communications and a Master of Divinity.
Mr. Shenk lives in Princeton Junction with his wife and son.
---
Source: Printed in West-Windsor & Plainsboro News, 1/18/13
A WEST WINDSOR-PLAINSBORO NEWS ADVERTISING FEATURE (Princeton Regional Chamber of Commerce).