In October 1938,
 radio broadcaster Orson Welles put West Windsor on the map by convincing CBS listeners that aliens had landed at Grovers Mill.  Those tuning in late to the fictional program were horrified to learn that military personnel were being vaporized by lasers shot from an alien space ship–surely the future of humanity was at risk.  The dramatic broadcast caused regional, if not nationwide panic, and the "War of the Worlds" became a source of pride for historic West Windsor.
In 2012, local engineer Carl Van Dyke purchased the historic Grovers Mill barn and, with the help of architect Kyle Van Dyke, converted the interior into studio apartments and office space.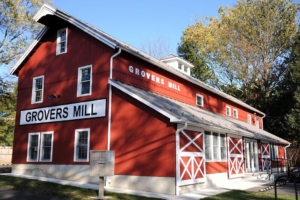 Finally in June of that year, Greenleaf Painters was able to add its name to this piece of local history by painting the barn's interior and exterior, and helping to preserve the barn's historic look.
Local artist Robert Hummel immortalized the alien invasion in his commemorative painting, "Battle at Grover's Mill," on display in the Grovers Mill Coffeehouse on Princeton-Hightstown Road.
Below you can find the famous broadcast in full, and a link to Robert Hummel's "Battle at Grovers Mill" website.
Battle At Grovers Mill Website