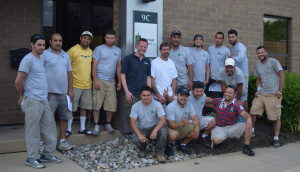 Greenleaf was built primarily word-of-mouth ten years ago. What started with founder, Jonathan Shenk, and a paintbrush has grown into the thriving company it is today.
So we want to pause and take a moment to give a big thanks for all the reviews and referrals you, our customers, have given over the years. We relish hearing how happy you are about the work we've done. Each referral and positive review brightens our day. It also helps our business grow and thrive.
One of our customers sent us this glowing review, which we couldn't help but post below. Many more of you have posted reviews online, told us your feedback in person, and even sent us hand-written cards! Here's to you, our friends and customers, for a great ten years! –Jonathan Shenk, owner
Carolyn Slaughter, Lawrenceville, wrote:
"If you're looking for a superb painting company to transform the rooms of your home, Greenleaf is the company for you. I've tried many painters in the Lawrenceville/Princeton area and found no company equal to Greenleaf's professionalism, courtesy, attention to detail and sheer skill and creativity in making any decorating job turn out perfectly and in the time promised.
I live in a Victorian house in Lawrenceville, about 150 years old, and it's something of a nightmare for any crew trying to produce a first-rate job: the floors slope downward, no shelf is straight, the ceilings have cracks which may suddenly open and send chunks of plaster crashing to the floor. Yet for all its infirmities, it is a magnificent, rare Second Empire house, with a mansard roof, characteristic in French building. I've lived and worked within these walls and my children have grown up under this roof for over twenty years.
I needed exceptional painters, who then connected me to a creative carpenter, who brought the ceilings back to new, and introduced me to a wood floor refinisher, Rees Powell, who brought the sloping floors back to their original pine beauty. The foreman, Abner Tolle, in his dedication to the job, could be found scrutinizing every inch of his hard-working crew's work until he could leave the house looking as beautiful as it must have looked in it's heyday."